How to Choose Between a Midmark and Stryker Stretcher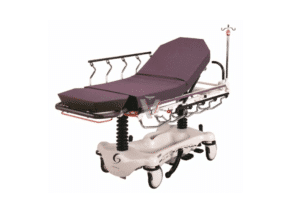 Often customers will contact us needing a refurbished stretcher. Their budgets do not allow for a new unit and they want the best stretcher(s) they can get for the money they have been allotted. Most customers generally know what they want in a stretcher, but by no means do most claim to be an expert. This is where a knowledgeable sales representative can help guide the customer to the best fit for them, regardless of profit margins or which stretcher would be a better fit for the stretcher refurbishing company, rather than the customer.
A company with integrity and the best interests of the customer at heart will ask a few questions in the case where the customer is depending on them for guidance:
What is your budget
What will be your anticipated weight capacity needed for the stretcher
Is width a factor (either with obese patients or narrow doorways)
Do you prefer side controls or end controls (or both)
Which functions do your require (fowler, trendelenburg, knee gatch, elevation, etc)
Comparing a Stryker Stretcher with a Midmark/Pedigo Stretcher
As a comparison, let's take a typical Stryker PACU stretcher and a typical Midmark/Pedigo PACU stretcher, each approx 5-7 years old.
Stryker Stretchers
The Stryker stretcher boasts a 500 lbs patient weight capacity (some specific models go up to at least 700 lbs), dual cylinder hydraulics (for elevation) and side controls, end controls, or both.
Typically the Stryker stretcher will have side controls in most cases.
The vast majority of Stryker stretchers also have pneumatic gas spring lift assist backrests.
Stryker has a wide variety of stretcher models to choose from. Some have 24" patient widths with a fairly narrow litter top, to stretchers which have wide patient surfaces of up to 30".
A full line of accessories compliments the Stryker stretcher line; from push handles to chart holders, this line has everything you could need. Different side rail features are also available.
Stryker stretchers typically hold their value better than other manufacturers, and Strykers reputation of consistent and helpful parts support is also a big advantage to buying Stryker.
The dual hydraulic cylinders provides the patient with a bit more stability, as the stretcher tends to have less "wobble" than with single cylinder lift stretchers.
Stryker also produced a wide array of specialty stretchers, including OB/GYN (Model 1061), Eye/Head and Neck surgery stretchers (1067, 1068, 1069, 1079, etc) and others. With all of the aforementioned said, the Stryker stretchers usually are a little more expensive on the refurbished market.
Midmark/Pedigo Stretchers
The Midmark/Pedigo line of stretchers is also well known and respected.
Most of these stretchers have a weight capacity from 350 lbs to 750 lbs (Pedigo 750 series).
These stretchers had a convenient feature whereas the operator could perform trendelenburg (if equipped) by grasping and actuating a handle at the foot end of the stretcher.
The stretcher top is so well balanced that almost any operator could effortlessly place the patient in any trendelenburg or reverse trendelenburg position quickly and easily. Midmark stretchers have a single lift cylinder for elevation.
Most units also had the pneumatic lift assist backrest feature, as well. The controls are at the end(s) of the stretcher on most models, although some newer models have side controls. The end controls are not as well received, in our opinion, as is the side controls.
Conclusion
The Midmark line, although popular, is not as widely seen on the refurbished medical equipment market as are Stryker stretchers, likely due to the sheer volume of sales that Stryker has had over the years. Typically on the refurbished market Midmark stretchers are sold for a bit less than the Stryker stretchers, and are not as popular overall.
Our recommendation is to not buy more stretcher than you need, and prioritize the features that are most important to you before making a decision. Likely, you can still get an extremely functional stretcher to suite you, even if your budget is lean. Most importantly, make sure the company you contact to buy a refurbished stretcher is knowledgeable and HELPS you make a decision, not push you into one.
–Venture Medical
Product names, logos, brands, and other trademarks featured or referred to within this blog are the property of their respective trademark holders.These trademark holders are not affiliated with Venture Medical ReQuip, Inc., or our website.