An Overview of Eye Stretchers
One of the most specialized types of stretchers sold today are those that deal with the head and neck, specifically for eye surgery. Though more expensive that a regular stretcher, eye stretchers are invaluable to those performing certain ophthalmic procedures.
Advancements of the Eye Stretcher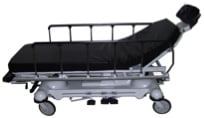 Years ago, surgical eye stretchers were similar to an ironing board on wheels. The head section narrowed to a point to give the surgeon better access to the head and neck areas. Advancements have followed, including the articulating and dual-articulating headrests. These headrests, which are on the head end tip of the stretcher, allow for adjustment of the patient's head position for surgery. This enables the surgeons better positioning and access. Also, most modern units can come with a wrist rest accessory for the surgeon. This accessory usually "plugs in" to a receiver on the head end and is used by the surgeon during surgery.
Eye Stretcher Models
Stryker makes one of the most well recognized lines of ophthalmic stretchers. Past models include the 966 and 1066, which had the "ironing board" style stretcher top without the articulating option. The Stryker 1067 eye stretcher did have a single articulation head rest option. The Stryker 1068 eye stretcher had multiple configurations, including single and dual articulation headrests. The dual articulation option had a couple of different designs, one used a series of hand cranks to manipulate the head rest. The newer design for the 1068 head rest, and one that has remained popular is one that utilizes two handles underneath the eye stretcher's head rest which independently adjust the articulation individually.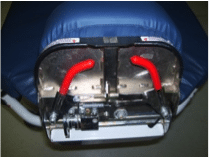 Stryker also sold the even newer models 1069, 1079 and currently the 1089. Hill-Rom and Midmark/Pedigo also sold versions of stretchers which were specifically designed for eye surgery.
Other features of the vast majority of eye stretchers include height adjustment (hydraulic), backrest adjustment (fowler), trendelenburg and reverse trendelenburg, knee gatch, etc.
Refurbished Eye Stretchers
If you do not have the budget for new stretchers and need to consider a refurbished stretcher or stretchers, always make sure you buy from a reputable and knowledgeable dealer with the ability to refurbish your stretcher properly so you can get maximum value out of your purchase.