Healthier Valentines Candy Options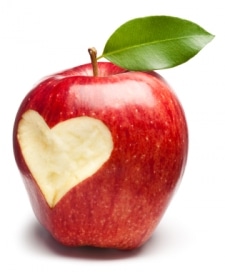 Have you ever noticed that holidays are synonymous with unhealthy habits. In fact, if holidays had a theme, it'd be candy. Halloween has all manner of it. Christmas has the homemade variety. Easter is full of sugar. And Valentine's Day has cornered the market on chocolate. Lots and lots of chocolate.
But what if you're trying to be healthy? Do you have to sit out on Valentine's Day? Of course not! You just have to be a little more creative about how you choose to celebrate.
Finding alternatives
Yes, chocolates are good. Yes, they're likely the preferred choice on Valentine's Day. But they're not the only choice. And if you make it fun, you might not even notice the lack of chocolate.
Let's say you're putting together the employee Valentine's Day party. Try a color theme. Since it's Valentine's Day, red would be a good – and easy – choice. Make all your decorations in variations of reds and pinks, and do the same with your food. There are plenty of healthy food options available in that palate. Strawberries, apple slices, watermelon, radishes, red peppers, cherries, berries. You get the idea. That doesn't mean you can't have some cupcakes and cookies. Just be sure to have plenty of healthy options available as well.
Less is more
You'd be hard-pressed to get through Valentine's Day without at least a little chocolate. Besides, the No. 1 rule of living a healthy lifestyle is moderation. Depriving yourself of all chocolate on the most chocolaty day of the year is a sure fire way to cause a binge later. So, have a piece or two of chocolate. But know when to stop.
A good way to do that is to not buy a whole bunch of it in the first place. If you're buying sweets for your sweetheart, stay away from the big bags of candy. Rather, visit the bulk foods aisle of your favorite grocery store – where you can buy items by weight — and pick out just enough candy that you'll need.
You can also get your chocolate fix in with fondue. Or try your hand at making chocolate-covered strawberries. That way you also get a serving of fruit while you're at it.
Date night
Now that you've selected a healthy gift, it's time to plan a healthy evening with your Valentine. If your plan is to hit up a nice restaurant and have a big dinner, you'll make up all the calories you saved from not eating the chocolates. That would certainly defeat the purpose. You can still go out to dinner, just make a wise choice about where.
You can also skip the big dinner all together, and opt instead for a couple's activity. Schedule a couple's massage, hit up a yoga class together, or spend the evening at an arcade. This is another place where creativity matters.
Get started now
The best way to stay healthy is to plan in advance. Start putting together your ideas for your sweetheart now. If you wait until the last minute, you'll be fighting the crowds at the chocolate bins.
Thanks for reading and Happy Valentines Day!