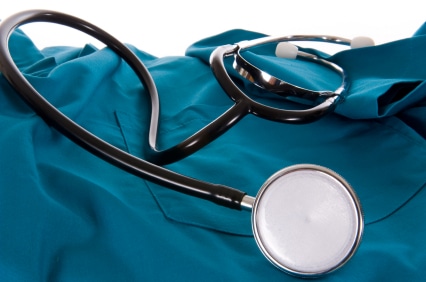 There is a lot to complain about if you're a nurse. Long hours lead to sore feet. Impatient doctors and patients pull you in every which direction.
But there's one often-overlooked, pretty great perk of the profession. Scrubs. Easy-to-wear, comfy scrubs. No binding, stuffy business suits for you.
In decades passed, scrubs were only about comfort. Little to no thought was put into the design of the clothing, meaning you most often were left looking boxy. But today's scrubs are all about design, fit and fabric. There is no shortage of brands to choose from, but some rise above the rest. Here's a look at five brands getting nurses' kudos on their comfort and durability.
Koi
The company says it has a simple mission: "to create scrubs that people love to wear." To get there, they incorporate the latest trends without scarifying comfort. One of their most popular style of pants is called the Lindsey, and it's known for it easily adjustable hemline.
Koi is also popular for its plentiful pockets, and there's even a special pocket just for scissors. The brand's variety of prints and colors are offered on highly functional fabric that's soft and durable. There's little, to no, shrinkage or fading.
What online reviews have to say: "I think the most comfortable scrubs I have ever worn are from Koi." "Cannot even begin to express how much I love these pants!"
Check 'em out: www.koihappiness.com
Dickies
Producing industry-leading scrubs is how Dickies made its name. Now, it has several lines of scrubs that mold to different needs and styles. Its offerings range from its original everyday line to its latest Extreme Stretch.
They're made from a blend of cotton, polyester and poplin, and have a soil-release finish to protect against stains.
What online reviews have to say: "They look very crisp and professional but are very soft to the touch." "I love these scrubs. I don't ever wear anything else."
Check 'em out: www.dickiesmedical.com
Butter-Soft by UA
With a name like Butter-Soft, you pretty much know what you're getting into with this brand of scrubs. Offered exclusively by Uniform Advantage, they're a popular choice because of their fit and fabric.
Some styles are available in more than 40 colors, so you'll have no shortage of options. This is another brand where style is as important as comfort.
What online reviews have to say: "Love love love this fabric!" "They are really comfy, soft and fit very well."
Check 'em out: www.uniformadvantage.com
Grey's Anatomy
Wait? Isn't that a TV show? Yes, but it's also a brand of scrubs produced by Barco Uniforms. And just because you're wearing the same styles as seen on the popular TV show, you're not sacrificing comfort or quality.
Made with soil-release Dura Tech fabric, the line is available in a wide variety of solids and prints. And, many women have said the styles have a slimming effect.
What online reviews have to say: "They are super soft, comfortable and never wrinkle." "They're soft, flattering yet professional."
Check 'em out: www.barcouniforms.com
IguanaMed
It may be relatively new to the scrub scene, around a short five years, but IguanaMed has been making a splash since it arrived. It's known for its athletic-inspired stretch fabric, MF Fabric. The breathable fabric helps keep you cool throughout a long shift.
And style is no joke here. The company's scrubs are designed by fashion experts.
What online reviews have to say: "I looove IguanaMed." "The fabric is very comfy and they have lots of pockets."
Check 'em out: www.iguanamed.com
Get comfy
Many nurses play mix and match with their scrubs, wearing a top by brand and a bottom by another. It may take some trial and error, but you should find the perfect balance of comfort and style. But you might want to sway more toward comfort since you'll be spending a lot of time wearing them.
Thanks for reading,