Top 5 Nursing Schools in the USA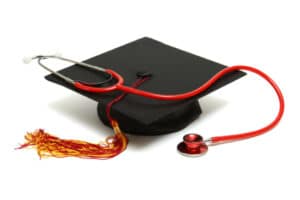 So, you want to be a nurse? Finding a nursing school can prove a daunting task. There's no shortage of programs out there, and they're not all created equal.
Fortunately, U.S. News ranks nursing schools across the country based on surveys sent to deans, faculty and administrators. Respondents were asked to rate each school according to its reputation for scholarship, curriculum, and the quality of faculty and graduate students.
Though the full list goes on for a mile, we've opted to share with you the top five rankings of the 2013 edition of U.S. News Best Colleges rankings for nursing schools and programs. According to the report, the first three listed tied for first place.
Johns Hopkins University
Baltimore, Md.
Total undergrads: 4,744
First-time, degree-seeking freshmen: 1,236
Degree-seeking undergrads: 4,725
Graduate enrollment: 1,693
The Johns Hopkins University East Baltimore campus is home to the School of Medicine, School of Nursing, Bloomberg School of Public Health, and The Johns Hopkins Hospital. The university works in conjunction with the hospital, allowing nursing students a chance at real-world experience.
The university's nursing program has its own simulation center with responsive mannequins, allowing students to learn in an immersive, realistic patient environment. The center boasts two simulated patient rooms, a central control room and two debriefing rooms.
According to the university, 88 percent of its 2010 Bachelor of Science nursing graduate survey respondents found jobs within 6 months.
University of Pennsylvania
Philadelphia, Pa.
Total undergrads: 9,756
First-time, degree-seeking freshmen: 2,400
Degree-seeking undergrads: 9,756
Graduate enrollment: 6,873
The school of nursing's options include nursing administration, gerontology, psychology, mental health, pediatric and family health. Students have the option to be certified as a nurse practitioner or clinical nurse specialist.
The university also has a simulation lab aimed at giving students the most realistic experience possible. The university partners with the Hospital of the University of Pennsylvania and the Children's Hospital of Philadelphia. Its classrooms are equipped with the latest hospital-based electronic medical records technology, and the school is home to one of the first PACE practices operated by a school of nursing.
Its nursing researchers receive top federal grants and engage in interdisciplinary activities.
University of Washington
Seattle, Wash.
Total undergrads: 29,397
First-time, degree-seeking freshmen: 5,579
Degree-seeking undergrads: 27,365
Graduate enrollment: 10,278
Studying in one of the clinical nurse specialist or nursing practitioner programs, nursing students can prepare for careers in community nursing, critical-care nursing, psychiatric mental health nursing, adult, gerontology, and family and pediatric nursing.
The school has clinical partner relationships with institutions across the nation that expose students to more than 1,200 physicians and nurses. Six medical centers local to the university provide expert nurses as loaned faculty to the school of nursing.
The School of Nursing ranked No. 2 in research funding. In 2011-2012, the school received a total of $16,496,158 in grant dollars.
University of California
San Francisco, Calif.
Total undergrads: 5,459
First-time, degree-seeking freshmen: 1,042
Degree-seeking undergrads: 4,934
Graduate enrollment: 2,621
The University of California at San Francisco School of Nursing offers programs in pediatric, community, psychiatric, geriatric, medical and family health nursing.
Graduate students and postdoctoral fellows receive research mentorship from faculty with international reputations and contacts.
The school offers interprofessional training among its health sciences campuses, which include schools of medicine, dentistry, and pharmacy. In addition to its state-of-the-art simulation lab, students have access to dozens of clinical settings that include UCSF Medical Center and San Francisco General Hospital.
University of North Carolina
Chapel Hill, N.C.
Total undergrads: 17,895
First-time, degree-seeking freshmen: 3,865
Degree-seeking undergrads: 17,422
Graduate enrollment: 8,275
Like the other programs, the university's nursing school offers programs for nurse practitioners and clinical nurse specialists, as well as giving students the option to enroll in the nursing service administration program.
The school maintains clinical partnerships in North Carolina and across the nation. It's one of only a few schools that house a Biobehavorial Laboratory, which houses a number of instruments for the monitoring of physiologic parameters of patients.
The nursing school is expanding its efforts in human patient simulation, psychiatric-mental health nursing and geriatric nursing. Each year, an increasing number of students participate in a clinical experience abroad.
A final thought
Well, there you have it, the top five. And while your perfect fit might not be listed above, you now at least have a jumping-off point for your research.
Thanks for reading,