Portable and Handheld Pulse Oximeters Overview
Technology has come a long way in patient monitoring over the last two decades. Around 1990, it was rare to see pulse oximetry on a patient monitor. Now you can buy a fingertip pulse oximeter for less than $100 and multi-parameter patient monitors without SpO2 (pulse oximetry) are almost impossible to find.
Pulse oximetry is a good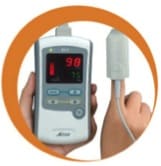 gauge as to the condition of a patient's cardio-respiratory state and reads the saturation of oxygen in the blood, along with the patient's pulse rate.  This is why handheld pulse oximeters have become very popular and are a great tool for performing spot checks on patients.
Handheld pulse oximeters are extremely portable and can be quite inexpensive. Types of units range from fingertip units that clip on the end of your finger and display the reading and pulse rate on the finger sensor  itself, to more robust units that have alarms, memory, and even ECG. Units are also available in heavy duty cases for rough handling, such as that for EMS use.
Handheld Pulse Oximiters are Easy to use
The handheld pulse oximeter is very easy to use. On most units you simply turn on the device by a power switch or button, place the finger probe on the patient's finger and the unit does the rest. After a few seconds the unit should start reading the patient's pulse rate and O2 saturation (pulse oximetry) and display these readings. If the unit heart rate audio, you may also hear the cadence of the heart rate at this point. Most hand held oximeters use standard batteries, such as alkaline AA or AAA batteries.
Common Repairs

Besides batteries, you may need to purchase SpO2 sensors occasionally. Most repair requests on hand held oximeters come from dropping either the device, the probe or both. Replacement probes can be costly, so handle the unit and the probes with care and try to avoid dropping them or getting them wet.
Conclusion
The portability and simplicity makes the handheld pulse oximeter a great choice for clinicians and emergency personnel, alike.
Thanks for reading.