OB/GYN Stretcher Overview
OB/GYN Stretchers are  a versatile solution in today's ER environment in order to have stretcher(s) on hand to perform pelvic exams and other gynecological / obstetric procedures. The stretchers can also be used as general use stretchers when not being used for OB/GYN, which is a cost saving advantage to having a stretcher that can only be used for one procedure or exam – these can remain in use even when not being used for their specialized purpose.
OB/GYN Stretcher Manufacturers
The two most popular manufacturers of OB/GYN stretchers are  Hill-Rom® and Stryker®.
Stryker OB/GYN Stretchers
The Stryker® Gynnie® 1061 OB/GYN stretcher is a modern stretcher with a drop-down leg section and pull-out stirrups that are hidden away when not in use. The Stryker® 1061 has all of the common features that they provide with their other stretcher models, including side rails, IV pole, pneumatic assist fowler, hydraulic height adjustment and trendelenburg/reverse trendelenburg. The Gynnie® 1061 also has a 500 lbs weight capacity. A full range of accessories are also available for the Stryker® 1061, including calf supports, drainage basin hoop, patient restraints, side rail pads and more. The Stryker® 1060 was the predecessor to the 1061, and has similar features.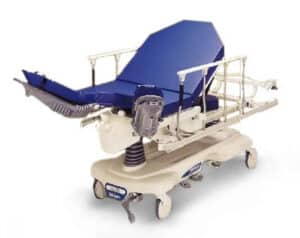 Hill-Rom OB/GYN Stretchers
The Hill-Rom® P8050 is another version of the OB/GYN Stretchers available today. Much like the Stryker 1061, the Hill-Rom® 8050 has the standard features that most other stretchers have, but with a few additional options and features. The Hill-Rom® has built in stirrups, like the Stryker® Gynnie® 1061, but these no not hide away underneath the stretcher base; they remain extended at all times and can be adjusted effortlessly by a handle located at the end of each stirrup. The leg section can be stowed away underneath the stretcher when not in use.  The Hill-Rom® P8050 OB/GYN stretcher also has a convenient hand brake system for assisting in stopping the stretcher when in motion. This helps when going down ramps or when an abrupt stop is necessary. Other options include a built in exam light, integrated catch basin, calf supports and more. Lastly, the Hill-Rom® 8050 also boasts a 700 lbs weight capacity. Previous versions of the model 8050 do not necessarily have the same specifications, features or options available as the current model described above.
OB/GYN Stretcher Summary
No matter which manufacturer or model you choose, these versatile stretchers can really make a positive addition to your ER or maternity department.
Thanks for reading,
Product names, logos, brands, and other trademarks featured or referred to within this blog are the property of their respective trademark holders.These trademark holders are not affiliated with Venture Medical ReQuip, Inc., or our website.