6 Tips on Checking Your Defibrillator Daily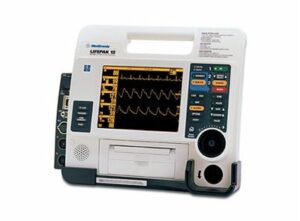 Your Daily Defibrillator Check Should Be More Than Just A Quick Check
Everyone in a surgical or critical care environment knows that the defibrillator should be checked daily for performance. A staff member will turn on the defibrillator, set it to the required test joules and fire away when the unit is ready. The strip will print, or the joules delivered, will display on-screen and your staff member might notate this in your test log and move on with their day.
In actuality, there should be more done during your daily test routine than this.
Here are some basic suggestions for a more complete daily defibrillator test routine and some general information to help ensure the unit will be ready to perform lifesaving measures in a critical moment:
Check that your supplies are adequate and readily available. Hands-free therapy electrodes, ECG electrodes, gel, razors, etc., should be adequately stocked and conveniently organized for a quick response.
Check the expiration dates on your supplies — they don't last forever. For instance, the gel on your ECG electrodes can dry up leaving you with either poor or no ECG signal when hooked to the patient. The hands free therapy electrodes will also expire, so keep an eye on the dates.
Check your paper supply in your recorder and make sure you have spare roll(s) on hand. Make sure when the strip prints, that it is legible and the paper is aligned correctly.
Check your ECG cable, lead wires, hands free cable, power cord and external paddles and cable for damage, kinks, tears, broken or bent pins, or any other obvious signs of abuse, wear, etc. Also, check your external paddle surface for pitting. Replace immediately if problems are found.
Make sure your defibrillator remains plugged in. If there is an "AC" or "main" light on your unit, make sure it is illuminated. Also, make sure your battery is changed in recommended intervals, even if it still seems to be working fine.
Inspect the defibrillator visually for cracks, warping or discoloration in the casing, signs of fluid intrusion, odd smells when turned on, hot spots on the case, or any unusual noises. If anything abnormal is observed, immediately contact your biomedical service company for service on the machine.

These additional steps will only take a few more moments during the morning test and might one day help in preventing a failure at a critical time.
Check out our Selection of
Defibrillators
. We offer quality products at Great Prices!