Vital Signs Patient Monitors: Everything YOU Need to Know
Vital signs patient monitors are efficient and will provide accurate and fast readings to evaluate a patient's health. The data it provides gives valuable insight to how a patient is really doing. It will alert a clinician if a patient is not recovering so well or may have a more serious health condition than what is visibly seen. A vital signs monitor measures a patient's body temperature, pulse rate (heart rate), blood pressure and respiratory rate.
Where they are used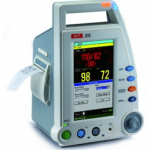 The vital signs monitor is used in clinical settings such as a doctor's office, small clinic or pre-op area of a surgery center. They also can be used in a home setting as well. A vital signs monitor is a less expensive alternative for a small clinic or doctor's office versus a multi-parameter patient monitor. Vital signs monitor provides fast and accurate readings to increase productivity in a high-volume, fast-paced environment. Because of its intuitive design, size, affordability and portability it enables users at all ages and technical skill levels to play an active role in managing the patient's healthcare.
Tech specs
The vital signs monitors today typically have bright vivid displays to indicate measurement readings. Most are AC/DC powered with a battery backup. Vital signs monitors such as the Biolight series come with a standard built-in printer. Some vital signs monitors have the capability to interface with electronic patient record systems enabling the data to be transferred from the device to the patient's record.  These units can be used on a desk, rolling stand or wall mounted.
Multi-Parameter Monitor
Multi-parameter patient monitors are designed to monitor more than just the basic vital signs. They are mostly used in settings where patients will need continuous monitoring on one monitor.  The multi-parameter patient monitor will not only monitor patient's basic vital signs but also the heart rhythms and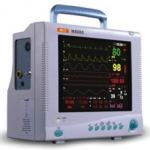 other physiological parameters while a patient is under anesthesia. It can continually monitor a patient without a clinician being right at the patient's bedside. These monitors come with audible and visual alarms. When the monitor identifies adverse trends it will prompt the clinical staff to intervene. Integrating parameters enables monitoring on a single display which increases the decision making process of the clinical staff.
Tech specs
Today's multi-parameter patient monitors come commonly with 10 or 12" high resolution color displays providing a clear view of a patients physiological data from a distance of 10-12 feet. Most are AC/DC powered with battery backup, and have the capability to trend a patient's parameters. Some multi-parameter monitors come with a printer that is standard. It also has user-friendly menus with navigator buttons/knobs for easy configurations. Multi-parameter patient monitors can be easily mounting on a rolling stand, wall mount or positioned on a desk.
What do YOU need?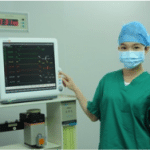 All in all this truly comes down to a question of what information is needed to help the clinician provide the best level of care for the patient. If you need basic vitals to be taken, a facility can save money by just going with Vital Signs monitor. If you want to monitor a patient continuously such as when a patient is having a procedure done, then a Multi-parameter monitor would be preferred. With today's economy, facilities can utilize both types of monitors or find they only need a vital signs monitor. The multi-parameter patient monitor is a bit larger in size than a vital signs monitor however, the environment and need would determine which unit would fit the need of the facility.
Conclusion
Factoring your needs first, then your budget will lead you to the right decision. If you have a question, please call us and we will help you make a good decision for your facility, patients and your wallet.
Thanks for reading,