Product Description:
Edan SE-1200E Express ECG.  Given the high demand within the United States, EdanUSA was formulated in 2009 to offer local service and support for U.S. sales. All of our products come with a three-year manufacturer's warranty. Our goal is to offer high-quality diagnostic equipment, that improves the quality of care to patients, with customer pricing 30% – 40% less than that of major U.S. competitors.
Edan SE-1200E Express ECG Features Excellent cost performance with a built-in high-resolution thermal printer. You can record 12 ECG traces on A4 size and US Letter-size paper.  8.4″ color touch-screen, Alphanumeric keyboard and one-touch operation, and Sleep mode to save energy and extend LCD life.  Automatic measurement and interpretation tested with authoritative CSE database along with Real-time waveform freezing.  120 seconds ECG waveform review-able, Two-step exercise test with periodic recording, and Built-in rechargeable Li-ion battery.  200 ECGs in internal memory.  See tabs for more information.
Do you have questions? We have answers! Check out our Knowledge Center or our Blog to learn about Refurbished Medical Equipment, Tips and Tricks, and much more!
To view a wide variety of EKG Units, click the following link to browse automatic autoclaves and distillers to manual autoclaves and ultrasonic cleaners. Venture Medical's Complete Catalog of EKG Units.
Features:
Excellent cost performance
Built-in high-resolution thermal printer
Record 12 ECG traces on A4 size and US Letter-size paper
8.4″ color touch-screen
Alphanumeric keyboard and one-touch operation
Sleep mode to save energy and extend LCD life
Automatic measurement and interpretation tested with authoritative CSE database
Real-time waveform freezing
120 seconds ECG waveform review-able
Two-step exercise test with periodic recording
Built-in rechargeable Li-ion battery
200 ECGs in an internal memory
Includes:
ECG Cable (4 mm, banana connector, AHA): 1
Bio ProTech Resting Tab Electrodes: 100
Unomedical 10-Lead Universal Clips: 10
Recording Paper (Z-fold, 210 mm, 295 mm*100 P): 1
Power Cord (USA standard): 1
Rechargeable Lithium Battery (2200 mAH): 1
Fixed Bar for Battery (Necessary accessory for 2200 mAH battery): 1
Fuse (1A): 2
User Manual: 1
Quick Reference Card: 1
User Guide for Interpretation: 1
Complete Specifications & Brochure: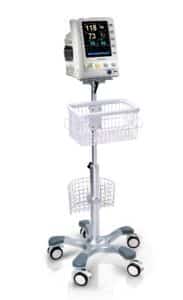 Available Options Sold Separately:
ECG Cable:
01.57.107048 ECG Cable (4 mm, banana connector, AHA): $210
01.57.107582 ECG Cable (Snap Style, AHA): $210
01.57.107584 ECG Cable (Grabber Style, AHA): $210
ECG Adapters:
20100-4 MM-SNAP ECG patient cable Adapter. Converts 4 mm banana plug into SNAP connector. 6″ in length. Comes in Set of (10): $50
Disposable ECG Electrodes:
PT-2334 Bio ProTech ADULT Resting Tab Electrodes (1,000 pieces, 100 pcs/pack, Disposable TAB Type for Resting EKG'S): $35 $55
T718 Bio ProTech PEDIATRIC Resting Tab Electrodes (1,000 pieces, 100 pcs/pack, Disposable Foam/Button Style for Pediatric): $149
T716-50 Bio ProTech ADULT Resting Tab Electrodes (1,000 pieces, 100 pcs/pack, Disposable FOAM/BUTTON Type for EKG'S): $149
Reusable ECG Electrodes:
01.57.040163 Adult Reusable Suction Electrodes (6 PCS/set, 4 mm ECG cable): $49
01.57.040162-12 Adult Limb Clamp Electrodes (4 PCS/set, 4 mm ECG cable): $49
01.57.040168 Children Reusable Suction Electrodes (6 PCS/set, 4 mm ECG cable): $49
01.57.040169 Children Limb Clamp Electrodes (4 PCS/set, 4 mm ECG cable): $49
Recording Paper:
SE-12P Recording Paper (Z-fold, 215*280 mm*100 P). Sold (10) packs to a box: $139
Power Related:
11.13.36015 Power Cord (USA Hospital-Grade): $15
21.21.064146 Rechargeable Lithium Battery (4400 mAH): $295
Data Input & Output:
FDA-XML Format Export: $200
SCP Format Export: $200
Smart ECG Viewer:
PC_Viewer Edan PC Viewer Smart ECG (USB Sentinel) with RS232 to USB Adapter and Edan PC Viewer Software: $350
11.17.047338&01.52.430187-10 ASUS wireless AP (WL-330g EAP) with holder: $200
Mounting Solution:
MT-801 Luxury Trolley with shelf: $850
02.04.111864 Cable Arm (CA-100,compatible with MT-801): $99
MT-207 Center Pole Trolley (roll stand) with Basket and locking Casters (28 lbs 29″ x 22″ x 9″). Includes mounting plate: $375
Plate_EdanECG Edan ECG mounting plate for MT-207. 02.04.240030: $55
11.56.78118 ECG Carrying Bag: $100