Product Description:
The Health O Meter Pediatric Portable Digital Scale: 8320KL.  Scale Features: Motion Detection: Advanced technology of this scale can accurately weigh patient while compensating for movement, Tare Function: Convenient function allows the user to automatically subtract the weight of the blanket or diaper from infant's weight measurement. Comes with 2 Year Limited Warranty.
Value-Added Features: Operating functions (Tare, Zero Out, Auto Zero, Auto Off) included at no additional cost and Easy Portability: This scale is ideal for traveling nurses or small healthcare facilities with its sturdy construction, built-in carrying handles, easy to clean surface, optional carry case and ability to fold in half.  Health O Meter® Professional provides a line of pediatric and neonatal scales that are designed to accommodate the youngest and smallest of patients in any healthcare setting. Our innovations include scales with motion-sensing technology that compensate for a child's movement. We also offer pediatric tray scales that provide increased safety and comfort and lock in fast and easy weight readings.  See tabs for more information.
Sanitary Plastic Weighing Surface
Easy to clean plastic tray is ideal for sterile environments
Motion Detection
Accurately weigh patient while compensating for movement
Tare Function: Allows the user to automatically subtract the weight of the blanket or diaper from the infant's weight measurement
Operating functions Tare, Zero Out, Auto Zero, Auto Off
Easy Portability with Built-in Carry Handles
Ideal for traveling nurses or small healthcare facilities
Sturdy construction
2 Year Limited Warranty
UPC: 892076002817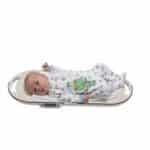 Capacity: 33 lb / 15 kg
Resolution: 0.5 oz / 10 g
3/4" LCD display
Functions: LB / KG Conversion, Zero Out / Tare, Auto Zero, Auto Off
Tray Size: 23 1/2" w x 11" d x 1" h
2 AAA batteries included

2 Year Limited Warranty
Available Option Sold Separately:
Carrying case (shown below): 64771