Product Description:
Health O Meter Digital Floor Scale with Adapter: 349KLXAD.  Healthcare professionals and patients have come to recognize the promise of quality and precision that come with a Health O Meter Professional Scale – A reputation of reliability that now stretches across nearly a century of daily uses. Our scales are designed with healthcare professionals in mind and come complete with a Two Year Limited Warranty.
Health O Meter 349KLXAD Features:  Interfaces with Welch Allyn® Spot Vital Signs® Monitor – Scale has to ability to transfer weight data to Welch Ally Spot Vital Signs monitors via the serial port connection. Low Profile Platform – Low platform height requires only a minimal step up, offering the patient a more comfortable and stable weighing experience.   Remote Display – The remote display provides versatility with the ability to be mounted on a wall or placed on a table.  Value-Added Features – Operating functions: (LB/KG Conversion, LB/KG Lock Out, Auto Zero, Zero Out/Tare, Auto-Off) included at no additional cost.   The adapter is included.  See tabs for more information.
Digital Floor Scale
Interfaces with Welch Allyn® Spot Vital Signs® LXi Monitor
Low Profile Platform
Remote Display
Can be mounted on Wall or placed on Table
Adapter Included
9V Battery Included
Limited 2 Year Warranty
UPC: 892076002251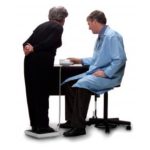 Capacity: 400 lb
Resolution: 0.2 lb
Platform Size: 12 1/2″ (w) x 12″ (d) x 1 7/8″ (h)
Display: 1/2″ LCD
Power Source: 9V battery included, 120V power adapter (ADPT40) included
Connectivity: Serial Port
Warranty: 2 Year Limited Warranty
Please Note: The Health O Meter® Professional 349KLX scale is not sold with an RS-232 cable to connect the scale to the Spot LXi. The customer must purchase a standard RS-232 cable.
Available Options Sold Separately:
Carry Case (shown below left): 64771
Height Rod (shown below right): PORTROD