Product Description:
Deluxe, Tilt-Top Overbed Table: 13008. Drive is dedicated to its customers by consistently offering the best quality and most functional products across a broad spectrum of healthcare providers' needs, better value, and aggressive pricing.
Drive's Deluxe, Tilt-Top Overbed Table Features:  Easily assembled.  Walnut, wood grain low-pressure laminate top.  The top can be tilted 33° in either direction and raised or lowered in infinite settings between 29.5″- 46″.  Swivel casters allow for easy maneuverability. See tabs for more information.
Are you looking for different features or sizes?  Click the following links to view our catalog of Overbed Tables OR Bariatric Overbed Tables.
Easily assembled
Walnut, wood grain low-pressure laminate top
The top can be tilted 33° in either direction
The top can be raised or lowered in infinite settings between 29.5″- 46″
Swivel casters allow for easy maneuverability
Chrome-plated steel "H" base provides security and stability
Tabletop locks securely when the height adjustment handle is released. It can be raised with the slightest upward pressure
Note: For proper assembly, do not remove the bottom screw (shown below)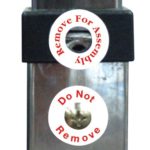 Height Adjustable: 29.5″ – 46″
Weight: 21 lbs.
Carton Shipping Weight: 23 lbs.
Weight Limit: 50 lbs.
Base Dimensions: 15.5″ (D) x 26.5″ (W)
Tabletop Surface Dimensions: 15″ (D) x 30″ (W)
Warranty: Limited Lifetime