Product Description:
Deluxe, Tilt-Top Overbed Table: 13008. Drive is dedicated to its customers by consistently offering the best quality and most functional products across a broad spectrum of health care providers' needs; better value and aggressive pricing.
Drive's Deluxe, Tilt-Top Overbed Table Features:  Easily assembled.  Walnut, wood grain low-pressure laminate top.  Top can be tilted 33° in either direction and  top can also  be raised or lowered in infinite settings between 29.5″- 46″.  Swivel casters allow for easy maneuverability. See tabs for more information.
Easily assembled
Walnut, wood grain low-pressure laminate top
The top can be tilted 33° in either direction
The top can be raised or lowered in infinite settings between 29.5″- 46″
Swivel casters allow for easy maneuverability
Chrome-plated steel "H" base provides security and stability
Tabletop locks securely when height adjustment handle is released. It can be raised with the slightest upward pressure
Note: For proper assembly, do not remove bottom screw (shown below)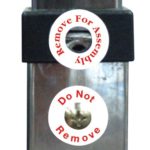 Height Adjustable: 29.5″ – 46″
Weight: 21 lbs.
Carton Shipping Weight: 23 lbs.
Weight Limit: 50 lbs.
Base Dimensions: 15.5″ (D) x 26.5″ (W)
Tabletop Surface Dimensions: 15″ (D) x 30″ (W)
Warranty: Limited Lifetime