Product Description:
Clinton Physical Therapy Mirrors: Clinton Physical Therapy Equipment offers one of the best values in its class and is built tough for the rigors of everyday physical therapy use and affordably priced for nearly every practice and facility. From a full line of treatment tables to staircases, mat platforms, parallel bars and much more, Clinton offers a variety of PT equipment designed to meet a wide range of needs.
Clinton Physical Therapy Mirrors:  Choose from Tri-Panel, Single Panel, Mobile or Wall Mount. Clinton also offers a Mobile Adult Mirror with Cuff Weight Rac located on the back to optimize storage, convenience, and organization.  Mirrors have 1/4″ thick, distortion-free glass with ANSI 297 Safety backing.  Construction: Hardwood, plywood frame, finished almond laminated back and if mobile, rolls easily on 3″ swivel casters.  View Angles are easy to adjust and all mirrors come with a 5 Year Limited Warranty.  See tabs for details.
6210-9 – Mobile Adult Mirror with Cuff Weight Rac
Features:
1/4″ thick distortion-free glass mirror with ANSI 297 safety backing
Hardwood, plywood frame
Rolls easily on 3″ swivel casters
Finished almond laminated back
Black tee-molding bumper strips on base sides
Holds up to 48 cuff weights (Not included)
Overall Dimensions: 26.5″W x 21″D x 72″H
5-Year Limited Warranty
Weights Not Included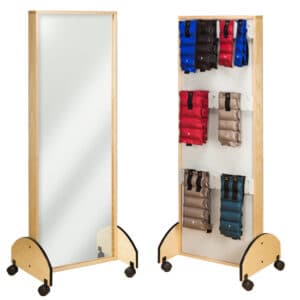 6210 – Mobile Adult Mirror
Features:
1/4″ thick distortion-free glass mirror with ANSI 297 safety backing
Hardwood, plywood frame
Rolls easily on 3″ swivel casters
Finished almond laminated back
Black tee-molding bumper strips on base sides
Overall Dimensions: 26.5″W x 21″D x 72″H
5-Year Limited Warranty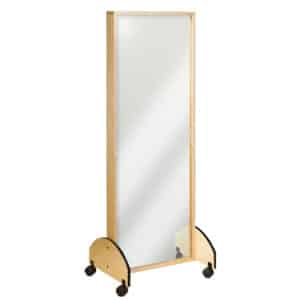 6222 – Mobile Youth Mirror
Features:
1/4″ thick distortion-free glass mirror with ANSI 297 safety backing
Hardwood, plywood frame
Rolls easily on 3″ swivel casters
Finished almond laminated back
Black tee-molding bumper strips on base sides
Overall Dimensions: 17.5″W x 21″D x 57″H
5-Year Limited Warranty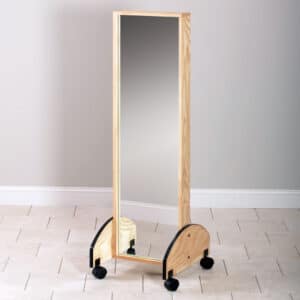 6223 – Mobile Tri-Panel Mirror
Features:
Three 1/4″ thick distortion-free glass mirror with ANSI 297 safety backing
Hardwood, plywood frame
Rolls easily on 3″ swivel casters
Finished almond laminated back
View angles easily adjust
Overall Dimensions: Open: 60″W x 70″H
Individual Panel Dimensions: 25″ W
Each Panel: 25″W
5-Year Limited Warranty