Product Description:
The Tuttnauer EZ10K Kwiklave, Quick Cycle: EZ10K.  This sterilizer offers all the proven, dependable features of our fully automatic autoclaves, with the added benefit of reducing the total heat-up time.  This autoclave is the perfect choice for a quick instrument turn-around or a high-volume office.
The EZ10K Kwiklave Features:  Speed and Reliability are accomplished without sacrificing load size. Easy-to-use, single touch control system increases productivity with 3 Pre-set sterilization programs.  Program and customize cycle parameters to suit your needs and maximize flexibility.  Comes with a 2 Year Parts and Labor Warranty.  Model EZ10k requires a voltage between 220V and 235V for proper operation.  When applicable a buck/boost transformer (0.5KVA) may be required.  See tabs for more information.
Wondering about maintaining an autoclave?  Visit our article 'How to Maintain Your Autoclave' to learn tips and tricks about medical equipment.
To view a wide variety of Autoclaves & Equipment, click the following link to browse automatic autoclaves and distillers to manual autoclaves and ultrasonic cleaners. Venture Medical's Complete Catalog of Autoclaves.
Reduces Cleaning Cycle Time by 50%
Closed-door active drying system to maintain sterility and ensure efficient drying of packs and pouches
Hepa filter 0.2 µm air filter (replaceable)
Rapid cycles optimize the availability of ready-to-use sterile instruments
Easy-to-use, single touch control system increases productivity
3 Pre-set sterilization programs
Program and customize cycle parameters to suit your needs and maximize flexibility
Integrated printer for cycle documentation (optional)
Interdependent temperature and pressure monitoring
Cycle information recovery in the case of power failure or cycle interruption
Insufficient water detector with automatic shut-off
316L Grade Stainless Steel with Electro-Polish Finish
Model EZ10K requires a voltage between 220V and 235V for proper operation
2 Year Parts and Labor Warranty
Model Number: EZ10K
Chamber Volume: 6 Gallons
Chamber Dimensions: 10″ x 19″
Standard Cassettes Capacity: 3 full and 3 half
Number of Trays: 4
Standard Unwrapped Cycle Time: Cold: 21 Minutes, Hot: 11 Minutes
Tray Dimensions: 16.3″x6.7″x0.8″
Overall Dimensions: 21.5″x20″x14.4″
Power: 2200W
Voltage: 230V
Autoclave Weight: 95 lbs.
Complies with the strictest international standards and directives: PED 97/23 – MDD 93/42 – ASME – UL/EN 61010-1 – FDA – ISO 13485:2003 – ISO 9001:2000
Tuttnauer EZ10 Brochure (click to view)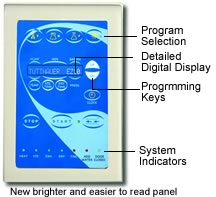 Available Options Sold Separately:
Tuttnauer  Internal Printer (click to view)
Printer Paper, Chart Recording Paper (PKG/5): 1610406
Instrument Pouch Racks (2 per box) for all 9″ and 10″ chambers: AR910
Instrument Pouch Racks (2 per box) for all 15″ chambers: AR920
Chamber Brite Autoclave Cleaner (1 case/12 individual boxes of 10 packets each): CB0010