Choosing a Refurbished Patient Monitor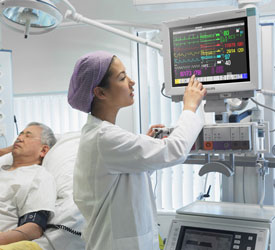 Last week we talked about how to choose the right Patient Monitor for your operating room. This post will be about how to choose a refurbished Patient Monitor. We specialize in refurbished medical equipment so this blog post is right up our alley.
How to Research Refurbished Patient Monitors
Refurbished patient monitors are prevalent and may be a good option for budget sensitive facilities. Just do your research and make sure you are buying from a reputable refurbished medical equipment company through references and specific questions related to the particular monitor. Also ask what they do to refurbish the monitor. If they cannot provide you with a clear and concise answer, you may want to move on. Some new patient monitors on the market today compete closely with the prices of refurbished unit, so cost compare and you may be able to obtain a new monitor for about the same price as a refurbished unit.
Tested & Approved
When purchasing a refurbished patient monitor for any environment, ensure that it is FDA approved. Also, all patient monitors should be electrically safety tested and performance tested by a qualified biomedical repair/maintenance technician prior to being declared "patient ready". Lastly, always check local codes and with regulatory bodies for specific requirements in your locale and/or facility.
Thanks for reading this week's post! If you have any questions make sure to let us know! We're here to help with all of your medical equipment needs.