Medical Stretcher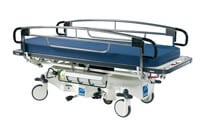 Description: A medical stretcher is a unit of medical equipment which is used in the transportation of a person with an illness, infirmity or physical disability.
Synonyms: bed, cot, gurney, mobile litter
Medical Stretcher Overview
Medical stretchers have a history, and it's a long one. They have existed in some form for hundreds of years, if not thousands.
Medical stretchers, by definition, fall into the category of transporting devices. They are used to transport a body from one place to another in the safest and most efficient way possible for both the patient and the medical personnel involved.
Medical stretchers have always been used to benefit both the injured and those needing to transport the injured. The flat nature and wheeled ability is to ensure that the injured are not further hurt during transport and the medical attendants get the patient to safety without injuring themselves in the process.
Today's medical stretchers come standard with an advanced wheeling system and and even more advanced locking system so that the patient is completely secured on the stretcher without any chance of falling off.
Modern day medical stretchers come equipped with adjustable height options, sturdy aluminum or steel metal frames, collapsible legs, and straps to control any patient movement during transport.
As far as stretcher models are concerned, there is one to meet your needs no matter what the profession. Today's medical stretcher models even come in ultra lightweight break-away replicas for those who handle foot traffic rescues such as ski slopes and beaches. There are also stretchers designed for small and compact spaces, foldable medical stretchers, and also those models that are produced specifically for use in ambulances and hospitals.
With no shortage of medical stretchers tailored to meet any profession's standards, today's models are sure to meet any company's medical safety standards with ease.
Medical Stretcher Manufacturers
Strecher manufacturers include: Hill-Rom, Midmark, Pedigo, Stryker, Wy'East, and many more. More information on stretcher manufacturers.
Related Medical Stretcher Links