Product Description:
ADC Diagnostix E-SPHYG ™ II B/P Patient Monitor model number 9002DK is the world's first digital mercury sphyg with an auto measurement option transitioning to a 21st-century device from a traditional mercurial sphyg snap. The unique backlit LCD mimics the appearance of a conventional mercury column but can be easily read in low-light conditions, and a second numeric LCD displays pressure, pulse, and other vital information. The  e-sphyg™ two features auto/manual settings. In manual mode, blood pressure is measured using the traditional, time-tested auscultatory method. Auto mode can be used with a small adult, adult, and large adult-size cuffs to automatically obtain systolic/diastolic pressure and pulse in about 1 minute.  See tabs for more information.
Note: This product has been Discontinued; call for availability. Added to Description
GRAPHIC backlit mercury-free LCD that mimics the appearance of a mercury column for easier reading
Multi-function alpha-numeric LCDs air pressure, deflation rate, systolic, diastolic pressure, and pulse (auto mode only)
Manual mode allows practitioners to use the time-tested auscultatory method with ANY sized cuff
Automatic inflation to pre-set levels simplifies the use
ECV (electronic control valve) precisely controls deflation at one of three pre-established rates for optimum results
Auto mode obtains readings automatically in about 1 minute
Automatic inflation and deflation. In manual mode, the operator can select from deflation rates of 2.5, 4.5, or 6.5mmHg/sec
NICAD rechargeable battery provides about 200 measurements used on a single charge.
AC adapter
Also available in desktop, wall mount, or mobile configurations
Choice of single adult cuff or three cuff system that includes the child, adult, and large adult (Now available on all models)
Available in traditional latex or latex-free configurations
Safe, no mercury, and clinically proven accuracy
E-Sphyg 2, Model 9002:
Operating Principle: Oscillometric Method – marks only apply to "Auto" measurement
Indicator: 300 digits column LCD and ten digits segment LCD
Pressure Indicating Range: 0 to 300 mm Hg (cuff pressure)
Measuring Range: 50-250 mm HG (systolic), 40-180 mm HG (diastolic), 40 to 160 bpm (pulse rate)
Accuracy: =/-3 mmHg (cuff pressure), =/- 5% of reading (pulse rate)
Inflation: Automatic inflation
Deflation: Electric control valve
Exhaust: Automatic exhaust valve
Power Supply: 7.0 VDC AC adapter (Model 9605+02225-1UOC or 4.8 VDC rechargeable NiMH battery
Power Consumption: 14W (max)
Memory: single measurement result – marks only apply to "AUTO" measurement
Operating Environment: +50ºF to +104ºF, 15 to 90% relative humidity
Storage Environment: -4ºF to +122ºF, 15 to 95% relative humidity
Coverage Arm Circumference:
Adult Size Cuff: 10.28 to 16.01 inches
Large Adult Size Cuff: 13.5 to 20.04 inches
Child Size Cuff: 7.48 to 10.71 inches
Main Unit:
Weight: approx. 2.2 lbs, without AC adapter or battery
Size: 5.4 x 10.6 x 3.8 inches
Note: This device complies with EMC (1EC60601-1-1-2) and EN1060-1, and EN1060-3.  Specifications are subject to change without notice due to performance improvements.
Available Options Sold Separately:
Model Options: Desk (shown), Wall, and Mobile configurations
Available in Single adult cuff model
All Models available in the Multi-cuff system includes small adult, adult, and large adult (see below)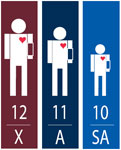 Please Note: Colors will vary with individual monitor settings and capabilities.