Product Description:
Drive Fish Pediatric Compressor Nebulizer: 18090-FS. Child-friendly design to encourage therapy compliance.  Features Include an easy-to-replace filter, a Powerful piston pump that is efficient, dependable, and quiet and comes complete with a disposable neb kit, mouthpiece, pediatric aerosol mask, carry bag, replacement filters, and instructions.  Retail packaged.  See tabs for more information.
Are you looking for a specific Nebulizer?  Click the following link to view our catalog of Pediatric Respiratory Equipment. 
In addition, we offer additional respiratory equipment. Click the link to view Oxygen Concentrators.
Child-friendly design to encourage therapy compliance
Easy to replace filter
Powerful piston pump is efficient, dependable and quiet
Complete with disposable neb kit, mouth-piece, pediatric aerosol mask, carry bag (shown below, right), replacement filters and instructions
Retail packaged
Also available with a Reusable Neb Kit with a Mouthpiece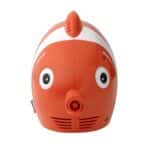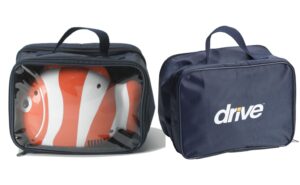 Method of Nebulization: Piston Compressor
Particle Size: 0.5 µm to 10 µm
Unit Dimensions 5.25″ (W) x 6.75″ (H) x 9.25″ (D)
Weight: 3.1 lbs.
Maximum Pressure: 33 PSI
Operating Pressure: 10-16 PSI
Liter Flow: 8 LPM
Electrical Requirements: 120 VAC 60 Hz
Warranty: Limited 5 Year
Available Options Sold Separately:
Reusable Neb Kit with Mouthpiece, "T," and 7′ Tubing: 18254
Disposable Neb Kit with Mouthpiece, "T," and 7′ Tubing 50/cs: NEB KIT 500
Disposable Neb Kit with Medication Cup, 7′ Crush Resistant Tubing, and Pediatric Aerosol Mask 50/cs: NEB KIT 700
Pediatric Aerosol Mask 50/cs: MASK 001P
Click links below to view additional Nebulizers and Equipment: