Product Description:
Medical Illumination System Two High-Intensity Discharge Surgery Light MH Series: S2SMH. The System Two MH series represents a new, unparalleled level in surgery lighting technology, known as High-Intensity Discharge (HID). Compared to traditional halogen surgery lights, the MH series provides cool, white light with virtually zero heat.
System Two MH Features:  This all-new design heralds a notable increase in efficiency over traditional halogen light sources, producing over 100,000 lux output with only a 39-watt H.I.D. bulb, versus a 150-watt halogen bulb! The heat has been virtually eliminated, while color temperature has been significantly increased to over 4,300° Kelvin.  Additionally, the MH bulb life includes complete mechanical dimming, the most accurate method. Quite simply, the MH Series signifies a huge step forward in surgery lighting.
Additional Information:  The Primary bulb has a rated life of 10,000 hours.  Price reflects the System Two Solo Ceiling Mount.  Available in several configurations, (Dual Ceiling Mount, Trio Mount including our video camera and monitor arm options, Wall Mount, and Portable Surgery Light.  If you have questions or need additional information, please contact Venture Medical, your authorized Medical Illumination dealer.  See tabs for more information.
 * Free shipping in continental USA only.
Like to know more about Surgical Lights?  Visit Surgical Lights in our Knowledge Center to learn all about them.  Click to view Venture Medical's Complete Catalog of Surgical Lights.
Have Questions?  Contact us today for questions or available options to fit your specific needs!
102,000 lux (9,500 ft candles) output at 1 meter distance
4,300º Kelvin color temperature
Fully adjustable light pattern (from 6.5″ to 9″)
Durable ceiling casting for optimum stability, balance, and function
360º rotational contacts at all key points
Indicator Panel (shown below)
50 – 100% mechanical dimming
Removable sterilizable handle
Over 10,000-hour bulb life for primary bulbs
Reserve bulb with auto-switchover, in case of primary bulb failure
Advanced suspension arm design, providing smooth extensive coverage
A unique curved facial lens design
Available in several configurations, including our video camera and monitor arm options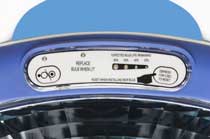 Weight, Solo ceiling mount assembly: Approximately 73.5 lbs
Dimensions: Ceiling Casting – 17.0″ diameter x 4.7″ deep
Ceiling Rod: 2.5″ diameter x 9.0″ – 43.0″ long (depending on ceiling height)
Arm (articulated): 3.5″ diameter (tapered) x 26.0″ long
Light Head Assembly: 23.0″ diameter x 10.0″ deep
Ceiling mount/extension arm interface: Continuous
Articulating/extension Arm Interface: Continuous
Articulating Arm Vertical Movement: +20, – 70 º
Articulating Arm/Yoke Interface: Continuous
Yoke/Lamp Head Interface: =/- 150º
Voltage: Input Voltage – 100 – 125 VAC 50/60 Hz Primary, Lamp Voltage – 120 VAC 50/60/Hz Secondary
Bulb Life: 10,000 hours (average) for Primary
Power: 120/230, 50/60Hz 140 Watts
Reflector: 20″ diameter polished aluminum, faceted
Corrected Color Temperature: 4300º
Irradiance: 314 W/m2
Color Rendering Index: 90
Focal Length: 39″
Central Illuminance (adjustable): 2,500 – 9,290 foot candles, 26,909 – 100,000 LUX
Maximum Illumjinance @ 33″: 5.62 – 9.85″
Depth of Illumination: 48″
Diameter: 4.12″
Operating Temperature: 41 – 104ºF
Storage Temperature Range: 41 – 104ºF
Humidity: 10 – 90% relative humidity
Medical Illumination System Two MH Brochure  (click to view)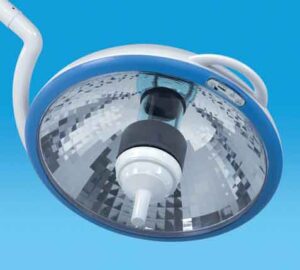 Available Options Sold Separately:
Dual Ceiling Mount: S2DMH
Wall Mount: S2MHWM
Wall Mount Monitor: S2MHWM-MA
*Trio Ceiling Mount w/Video Camera: S2TMH-VC
Portable Floor Model: S2MH
Note: *Controller included with Video Camera.