Product Description:
Edan SE-3B ECG (Wide Screen). Given the high demand within the United States, EdanUSA was formulated in 2009 to offer local service and support for U.S. sales. All of our products come with a three-year manufacturer's warranty. Our goal is to offer high-quality diagnostic equipment, that improves the quality of care to patients, with customer pricing 30% x 40% less than that of major U.S. competitors.
The Edan SE-3B ECG (Wide Screen) Features:  Smart ECG SE-3 series are high-quality, affordable, three-channel ECG units. It is compact and light design makes it portable for any work situation.  The fold-able LCD screen with waveform display and parameters configurable, High-resolution thermal printer, and a Built-in rechargeable lithium battery, AC/DC power supply.  A well-designed membrane keyboard, Multi-languages select-able, Data transmission to PC via RS232/Ethernet port, along with USB Interface for patient data transportation.  The SE-3 ECG is compatible with an external printer for 12 leads simultaneous printing and has a complete digital filter, avoiding baseline drift, AC, EMG interference.  Automatic baseline adjustment to optimize printing position along with copy mode for additional copies of the latest auto-tested ECG.  The SE-3 ECG has 3/6/12 leads display simultaneous, Lead-Off detection, and alert. Selectable report options: auto, manual, rhythm, and HRV analysis.  Interpretation tested with an authoritative CSE database is an available option.  See tabs for more information.
Do you have questions? We have answers! Check out our Knowledge Center or our Blog to learn about Refurbished Medical Equipment, Tips and Tricks, and much more!
To view a wide variety of EKG Units, click the following link to browse automatic autoclaves and distillers to manual autoclaves and ultrasonic cleaners. Venture Medical's Complete Catalog of EKG Units.
Features:
A fold-able LCD screen with waveform display and parameters configurable
High-resolution thermal printer
Built-in rechargeable lithium battery, AC/DC power supply
Well designed membrane keyboard
Multi-languages select-able
Data transmission to PC via RS232/Ethernet port
USB Interface for patient data transportation
Compatible with an external printer for 12 leads simultaneous printing
Complete digital filter, avoiding baseline drift, AC, EMG interference
Automatic baseline adjustment to optimize the printing position
Copy mode for additional copies of the latest auto-tested ECG
3/6/12 leads display simultaneously
Lead-Off detection and alert
Selectable report options: auto, manual, rhythm, and HRV analysis
Interpretation tested with authoritative CSE database (option)
Includes:
ECG Cable (4mm, banana connector, AHA) 01.57.471017: 1
Bio ProTech Resting Tab Electrodes: 100
Unomedical 10-Lead Universal Clips: 10
Recording Paper (Roll, 80mm*20m): 1 Roll
Paper Roller: 1
Power Cord (USA Hospital Grade): 1
Rechargeable Lithium Battery (2200mAH) M21R-064114: 1
Fuse (T400mA, USA standard): 2
User Manual: 1
Quick Reference Card: 1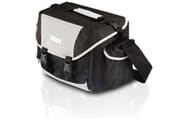 Available Options Sold Separately:
ECG Cable:
01.57.471017-11 ECG Cable (4 mm, banana connector, AHA) 01.57.110375: $199
01.57.107584 ECG Cable (Grabber Style, AHA): $210
ECG Adapters:    
20100-4 MM-SNAP ECG patient cable Adapter. Converts 4 mm banana plug into SNAP connector. 6″ in length. Comes in Set of (10): $50
Disposable ECG Electrodes:
PT-2334 Bio ProTech ADULT Resting Tab Electrodes (1,000 pieces, 100 pcs/pack, Disposable TAB Type for Resting EKG'S): $55
T718 Bio ProTech PEDIATRIC Resting Tab Electrodes (1,000 pieces, 100 pcs/pack, Disposable Foam/Button Style for Pediatric): $149
T716-50 Bio ProTech ADULT Resting Tab Electrodes (1,000 pieces, 100 pcs/pack, Disposable FOAM/BUTTON Type for EKG'S): $149
Reusable ECG Electrodes:  
01.57.040163 Adult Reusable Suction Electrodes (6 PCS/set, 4 mm ECG cable): $49
01.57.040162-12 Adult Limb Clamp Electrodes (4 PCS/set, 4 mm ECG cable): $49
01.57.040168 Children Reusable Suction Electrodes (6 PCS/set, 4 mm ECG cable): $49
01.57.040169 Children Limb Clamp Electrodes (4 PCS/set, 4 mm ECG cable): $49
Recording Paper:
SE-3P Recording Paper (Roll, 80 mm*20 m) Sold (10) rolls to a box: $50
Power Related:
01.13.036092 Power Cord (UK standard): $10
01.13.036106 Power Cord (USA Hospital grade): $15
01.21.064114 Rechargeable Lithium Battery (2200 mAH): $195
Smart ECG Viewer:
PC_Viewer Edan PC Viewer Smart ECG (USB Sentinel) with RS232 to USB Adapter and Edan PC Viewer Software: $350
Mounting Solution:
MT-207 Center Pole Trolley (roll stand) with Basket and locking Casters (28 lbs 29″ x 22″ x 9″). Includes mounting plate: $375
EdanECG Edan ECG mounting plate for MT-207. 02.04.240030: $55
1.56.78042 ECG Carrying Bag: $90