Product Description:
Health O Meter Digital Floor Scale: 349KLX.  Since 1919, Health O Meter® Professional has provided the medical community with high quality, innovative digital and mechanical healthcare scales. Healthcare Professionals and patients have come to recognize the promise of quality and precision that comes with our Professional Scale – A reputation of reliability that now reaches across nearly a century of daily uses.
Health O Meter 349KLX Features: Interfaces with Welch Allyn® Spot Vital Signs® Monitor – Scale has to ability to transfer weight data to Welch Ally Spot Vital Signs monitors via the serial port connection. Low Profile Platform – Low platform height requires only a minimal step up, offering the patient a more comfortable and stable weighing experience. Remote Display – The remote display provides versatility with the ability to be mounted on a wall or placed on a table. Value-Added Features – Operating functions (LB/KG Conversion, LB/KG Lock Out, Auto Zero, Zero Out/Tare, Auto-Off) included at no additional cost. 9 Volt Battery Included. See tabs for more information.
Capacity: 400 lbs
Resolution: 0.2 lb
EMR Connectivity via Serial Port
Remote indicator can be placed on the table or mounted on a wall
LCD display
Functions: LB / KG Conversion, LB / KG lock out, Zero Out / Tare, Auto Zero, and Auto Off
9 Volt battery included
Interfaces with Welch Allyn® Spot Vital Signs® Monitor
2 Year Limited Warranty
UPC: 892076002251
Weight Capacity: 400 lb
Resolution: 0.2 lb
Platform Size: 12 1/2″ (w) x 12″ (d) x 1 7/8″ (h)
Display: 1/2″ LCD
Power Source: 9V battery included
Connectivity: Serial Port
Warranty: 2 Year Limited Warranty
Note: When connecting the Welch Allyn® Spot Vital Sings® to a Health O Meter Professional 349KLX Scale:
Caution: Only use a 9V battery with the Health O Meter 349KLX scale, DO Not use the optional wall mounted power supply adapter.
Caution: The Health O Meter® Professional 349KLX scale, is not sold with an RS232 cable to connect the scale to the Spot LXi. The customer must purchase a standard RS-232 cable.
Caution: Remove the two hex nuts on the RS-232 cable, before screwing the cable into the scale base, when using the Spot Vital Signs® LXi with a Health O Meter® Professional 349KLX Scale.
349KLX Brochure  (click to view)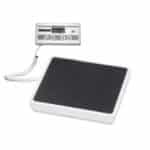 Available Options Sold Separately:
Optional power adapter: ADPT40
Carry Case: 64771
Height Rod: PORTROD